The Mobile Pathway to Enhanced Experiences in Senior Living
Mobile technology can be a powerful asset that improves the senior living experience for everyone involved. From mobile apps that keep caregivers with residents to those that enable families to stay connected to their loved ones, mobile has found its way into the senior living space and with good reason.
Keeping Seniors and Families Connected
The large and growing population of seniors is largely made up of members of the baby boom generation. While they weren't raised alongside the internet like their children and grandchildren, these soon-to-be senior residents are easily the most tech-savvy elders ever. From checking the weather to texting grandkids to playing games and sharing photos on Facebook, many are just as reliant and smartphone savvy as their children and grandchildren.

For residents living in senior living communities, a community mobile app makes it easy to engage with services and amenities the community offers. The Glennis Family app presents dining menus, daily events, community news and more, all to help foster connections between residents, staff, and the broader community. This engagement works to combat isolation and loneliness by making it easy for seniors to stay in the know about their community's events and services.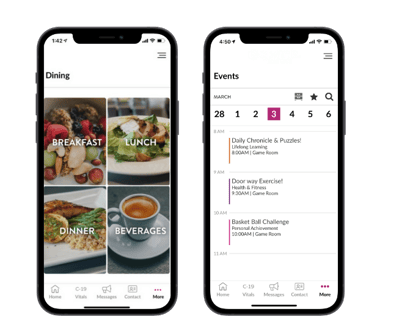 The Glennis Family App
At the same time, the app facilitates connections with families, keeping them in the loop on community happenings and the care of their loved ones. The app provides anywhere anytime access to families on the activities their senior is participating in, if they attended meals, and any changes to their care. This makes it easy for them to offer support and encouragement to Mom or Dad about their daily life and feel comfortable about the care they are receiving.
Not only a time saver for families, the app also streamlines communication for staff. They can send regular updates to residents and their families, either on an individual or community level, making communication more efficient and less time consuming. Along with anytime access to care plans, menus, and activities the Family app serves as a social engagement and communication tool that connects families, residents and staff and keeps everyone more informed.
Improving Operations and the Staff Experience
The proliferation of tablets and smart phones has also become integral for providers helping to improve productivity, communication, and the staff experience. Glennis offers mobile-friendly solutions that improve productivity and efficiency. For example, the Glennis Mobile Care App makes it easy for caregivers to update resident records at the point of care, document and report incidents in the field, and shift time from paperwork to time with residents. A full-featured CRM mobile app enables sales teams to accomplish more using tablets and mobile devices, from inquiry response to lead nurturing. The Glennis Quality tool provides customizable mobile surveys so reviewers can check compliance to regulations and brand standards during a site visit—no pen and paper required!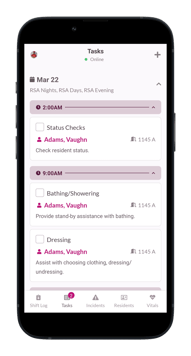 Glennis Mobile Care App
Mobile-friendly software solutions that improve communication, automate work processes and provide versatility to how work gets done are big selling points when it comes to attracting and retaining staff. "The reality is that younger people working in the industry seamlessly integrate technology into their daily work and they expect the tools they use to support that," said Alis Sareea, CTO of Glennis Solutions.
The senior living industry is rapidly adopting mobile technology, and just like consumers, internal users are demanding intuitive and easy-to-use ways to access relevant information to improve their productivity and augment their busy workday.

To find out more about how Glennis can bring mobility and connectedness to your senior living communities, schedule a free demo.