Glennis Care
Track, Monitor and Minimize Infection Rates
Keep residents and staff safe by tracking outbreaks and vaccinations across your portfolio.
Get a demo
Simplify outbreak management for a safer community
The industry-recognized Glennis Community Infection Management System (CIMS) monitors potential outbreaks, vaccination status and more across a single community or an entire portfolio.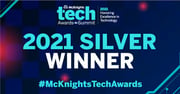 Track Infections in Real Time
Whether it's COVID-19, gastro-intestinal viruses or the flu, the Infection Tracker feature monitors and helps control the spread. The system groups residents and employees by potential outbreak, and assigns each person enrolled their own case profile which displays key information including the date the potential infection was reported, symptoms and date of onset, test result, if the family and physician were notified, and more.
Monitor Related Data
The system tracks infection-related data points, such as temperature readings and hospital visits. The CIMS helps you keep a close eye on cases as they're resolved and accurately trend other important health indices in community populations. In addition, track case resolutions and non-health-related data that needs to be aggregated quickly and efficiently.
Set Thresholds for Notification
Set automatic notifications to be sent to staff and management when certain thresholds that you set are met. For example, you may decide that if 2% of the occupancy becomes ill, you want to be notified so that certain safety protocols or PPE use can be implemented.
Track Vaccines & More
The Compliance Tracker feature enables you to stay on top of vaccination status for your residents, staff, and even vendors. This tool is configurable to align with the differences in vaccination statuses between state and/or country, for both consent and receipt of the vaccination. Its flexibility extends to tracking the status of things such as the currency of Medicaid for residents – even staff e-learning progress. Create as many compliance trackers as you want with quick and easy updates.
Monitor Third Parties
Vendors and care providers who enter the community can unknowingly bring in unwanted infection. The CIMS system is flexible, allowing you to create a repository of third-party care providers for each community so you can get a comprehensive picture – including vaccine and testing status – of every person who visits.
Case Study
When the COVID-19 pandemic began, senior living facilities were particularly susceptible to infection because of the relatively closed community structure and the health concerns of their residents. Tracking outbreaks, and later vaccines, across facilities, portfolios and states became a complex issue. The Glennis community infection management tools were rapidly deployed and relied upon to keep more than 35,000 Atria Senior Living residents and staff safe.
"This past year as we all have navigated the pandemic, I am grateful for the tools that I have available at the click of a button."
Jen Johnson, National Director of Care